In preparation for my upcoming Dorkbot talk, I put together this chart of CPU speeds from 1980 until today: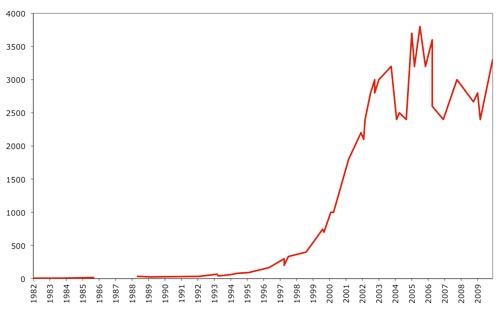 This chart demonstrates that we hit the era of what I'm calling Peak MHz in about 2004. That's the point when processor speed effectively peaked as chip manufacturers began competing along other dimensions. Those other dimensions--energy efficiency, size and cost--are driving ubiquitous computing, as their chips become more efficient, smaller and cheaper, thus making them increasingly easier to include into everyday objects.
For those who grew up during the 1990-2004 era, this can be quite confusing, since CPU speed was how the value of computing devices was commonly measured. Now that is shifting to how that power is applied. In other words, it's gone from being a discussion of raw power, to how that power is applied (for a similar phenomenon, see the superbike top speed competition among motorcycle manufacturers, which ended with the 2000 Suzuki Hayabusa agreement).