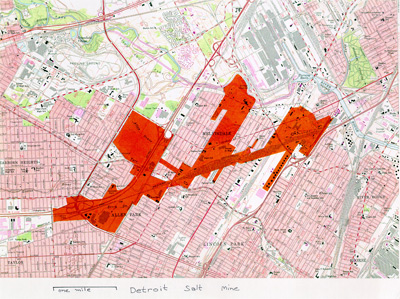 When I was kid growing up in suburban Detroit, I always knew that there was a salt mine in the center of downtown. There aren't many mines in the middle of urban areas, but one of the many strange things about Detroit is that it had one, or has one, since it's probably still down there, even though it's been closed for 20 years. I think I was sick and missed the 6th grade field trip that would have been the one chance I ever had to see it, but I saw all the big salt crystals that the other kids brought back from it and knew that the trip to the salt mine (like snowmobile safety classes) was one of the key moments of many Michigan children's childhoods.
What I didn't realize was how the salt mine's operations are actually an interesting example of the kind of negotiation that happen between industry, landowners and city governments when trying to provide a city service based on a low-cost commodity resource. When telling the story to Molly the other day (based on this article), I realized that there are similarities between negotiating the mineral rites for salt and negotiating technology access for municipal Wifi, or any other kind of pervasive technological service. See, radio waves are kind of like minerals in that they don't care about property lines. The pattern of extracting salt in Detroit looks a lot like the pattern of Wifi access nodes. Compare the map above to the one for Spokane, WA:
I don't know if the similarity stops at the look of the maps, or goes deeper into how services that don't stop at property lines work in general, but I think it's an interesting analogy.