Mike Kuniavsky "Changing Things" (Lift09 France EN) from Lift Conference on Vimeo.
I expanded on my LIFT France presentation at this years' Sketching in Hardware gathering. The two presentations are quite similar. My core point is that the fundamental nature of making things changes as the cost of moving atoms goes up and technologies for exactly reproducing physical objects using computer-controlled tools moves into more media.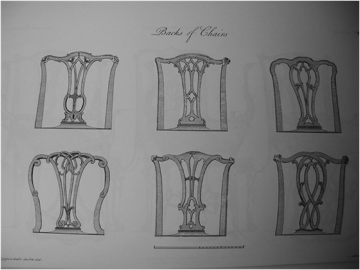 Here are some key points:


If you look at [Thomas Chippendale's] Director, it's full of variations. Chippendale expected that each piece was made individually. By showing all of these variations, he's essentially saying "I am defining a design space for you, each piece is a collection of parts that you can mix and match. They all work together because I've created a standard interface and standard components. A kind of furniture description language." The system is Chippendale's, but the specific pattern is up to the individual craftsman.

In fact that's how people treated it. There's actually little Chippendale furniture from that period that looks identical to what is in the Director. Moreover, cabinetmakers were free to add to the language, to change, improvise and then distribute their designs themselves, as many did in their own pattern books.

Why would Chippendale give away his unique secrets?

Because he was working in a Read-Write culture. He knew that he wasn't going to sell much of his actual furniture in Boston: wood furniture is just too expensive to ship across the Atlantic and his workshop can only put out so many pieces, but by publishing the Director he would profit from the designs' publication and his reputation would benefit because he would have a lot of influence. And he did. The Director was a big hit in both England and its colonies and an entire style of furniture, whether he designed it or not, became known as Chippendale furniture. He was the first person who wasn't a king to have a style of furniture named after him.

The full presentation is available as an 860K PDF.
[April 3, 2010 update: added the full video]