I have been busy for months on many projects, thus the infrequent updates. Not all of the things that kept me busy were as pleasant as presenting at Adaptive Path's UX Week. In the reception area, Tod and I showed WineM (which Bruce Sterling blogged about!), and I was invited to talk to the crowd.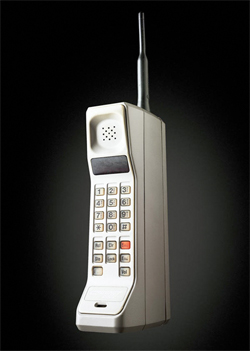 Mike Kuniavsky | UX Week 2008 | Adaptive Path from Adaptive Path on Vimeo.
It was a pleasure to be invited and to present to a group of old and new friends. I felt so comfortable that I decided to abandon my usual presentation format and present without any slides. I brought a suitcase of stuff and a stapled pile of notes, and pulled things out of the suitcase to illustrate my point. Kind of like a prop comedy version of a presentation, except not as funny. Or not as intentionally funny, anyway. However, as usual, I had written the presentation (108K PDF) in PowerPoint, so you can still read what I said, even though the slides are blank and you don't get to see me pulling a Motorola Dynatac phone out of a fake Prada purse. AP says they'll have video of it up soon.
My goal for the talk was to link many of the ideas I've been talking about lately (information shadows, objects as avatars of services, the shift to devices as subscriptions, etc.) into a single narrative, explaining why user experience design for ubiquitious computing is important, and why it's important to engage in it now. I spend a fair amount of time telling the audience to cast off the shackles of screen-based interaction design. I conclude with:
I believe that ubiquitous computing holds amazing promise for making the world a better, happier and more interesting place. One that's a little more magical than what we have now. We, the interaction designers, have the responsibility to make it that better place. Manufacturers are going to make ubicomp devices with us or without us, and this technology is going to be the next big thing, simply because it's so cheap. It is our job to make technology work for people, regardless of whether there's a screen involved or not. I think that far too much attention has been paid to screen real estate speculation in the last 10 years, and it's time to burst that bubble.
Also, Gregg Zachary of the New York Times wrote a very interesting story about the importance of hands-on engagement with technology. He quotes me in relation to the Sketching in Hardware conference.
[5/4/2010 update: the video is now embedded...sorry about the delay]