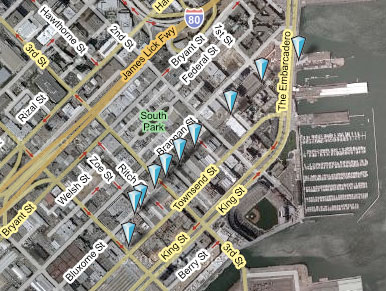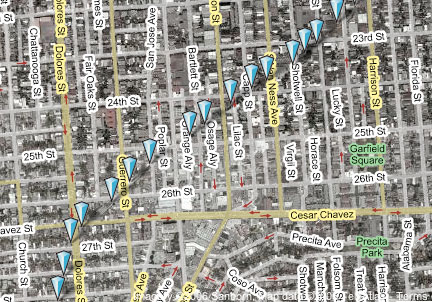 (click for interactive version, courtesy of Platial)
Stewart Brand talked about how building learn, and defined a set of what he called shearing layers. The bottom-most layer of his shearing layers is "Site," which states that the site is eternal. That's certainly true, to a point. Dubai's The World is not an eternal site: it's being built right now, and much of San Francisco is on landfill. However, eternal or not, once the boundaries of site are defined, it's very difficult to change them. Many Italian towns, such as Siena, still show the traces of the Roman coliseums that dominated their centers two thousand years ago, even though the coliseums and the buildings all around them, are long gone.
Modern cities have this, too, and they learn at an urban level. I decided to follow up on an observation my friend Jim made some years back. He told me that you could see where the old railroad right-of-way used to pass through his part of the neighborhood we both live in. San Francisco used to be dominated by railroads which, probably much more than the Gold Rush, built the city in the 19th century. However, throughout most of the 20th, these railroads have been systematically dismantled. Generally, they were dismantled after neighborhoods had grown up around them, and as the railroads sold off the land where track used to lay, the pieces they sold were not necessarily in line with the SF street grid. Even through as much as 100 years may have passed since a right-of-way was sold, undoing all the funny shaped pieces of land is difficult and expensive, so developers build in what's available. What you get then, and what's visible from a satellite map, is a picture of the paths which used to snake through San Francisco, defined by connecting the dots of funny-shaped buildings.
I've made two of these Urban Palimpsests, as I'm calling them, using Platial. The first (on the left, above, of the SOMA area of San Francisco, where I used to have an office. The second is of the area that Jim talked about, tracing the path of a big rail spur through much of the Mission.
I've found several other such railroad palimpsests in the city, each of which reminds me how some decisions are imperceptibly permanent and how the most seemingly permanent things are sometimes temporary.