Last week, I posted about, Sketching in Hardware 1, a conference I organized. Now, I'd like to comment on an issue that has come up at other tech conferences and which came up again at sketching - the disproportionate demographics. Specifically, the disproportionate ratio of men to women who attend conferences, relative to the proportion of people working in the field.
During the planning of this conference, I talked to a number of people about how to attract more women to technology conferences. My goal was to create as gender-balanced an invitation list as I could manage. I sought input from a broad range of folks (thank you Molly,Anne, Liz, Julian,Rael, Judith and everyone else I've consulted with). The conference focus was to bring together developers of toolkits for rapid prototyping of physical/ubiquitous computing devices, or heavy users of such toolkits. With that as the primary gating criteria, I tried to invite a broad range of people, especially women, across a range of career trajectories (i.e. I didn't want to stick with established professors and professional engineers, but PhD students, researchers, artists, educators and designers, managers). I spent several months collecting lists, using Google and working my social network (i.e. asking folks to tell me who they thought was interesting). [BTW, if you you fit this criteria and you weren't invited, I apologize and please contact me.]
I want to share what I feel is an interesting and frustrating statistic: the ratio of men attending to those invited was about 1 in 3, yet for women it was 1 in 19. Here is a graph illustrating the invitation process: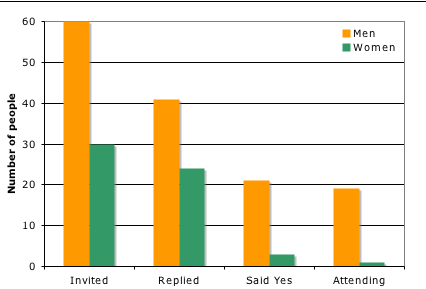 You can see that although proportionally more women replied to my invitation (80% of women invited replied, as compared to 68% of men), the proportion who said they would attend was much lower, and the proportion who could actually attend was even lower. Basically, only one of the 30 women I invited who wasn't somehow involved in the planning was able to attend the event. I don't really understand why. It's of course tied into the mesh of social factors that cause a gender disparity in technology, and the numbers aren't statistically significant if you take the population of technology workers as a whole, but it's still frustrating. I'm not sure what I could have done (or could do) differently, and I appreciate your suggestions or thoughts on the topic. What is going on that's causing proportionally so many fewer women to attend conferences, relative to men? I don't know.