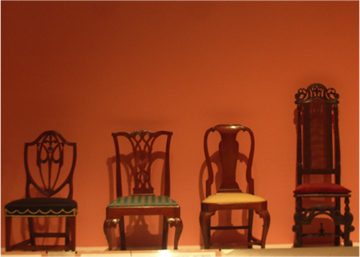 A couple of weeks ago Liz and I had the pleasure of speaking at LIFT+Fing France, a great conference about technology, design, society and the future. The lineup was fantastic and both the in-band and out-of-band conversations were great. I would not have predicted ahead of time that I'd end up discussing crowdsourcing techno-anarchist eco revolutions, but there we were and it wasn't even that many glasses of pastis in. ;-)
My short talk focused on how Lawrence Lessig's concept of read-write culture applies to the computer-driven making of physical things, rather than just media, and how this has the potential to change our relationship to objects.
The end of Read-Only material culture, as I mark it, began in 1985, with the release of the Apple LaserWriter, which was the first mass market device that merged the flexibility of bits with the tangibility of atoms. It could provide the precision and control of Industrial Revolution tools, with the flexibility of pre-Industrial Revolution techniques. It did this by making the instructions, the code, the knowledge for every part of the finished product changeable, while the end result was completely consistent. Now, someone can buy the tool, have it produce great results without any modification OR look at the knowledge that's embedded in it AND change it to suit their needs. Until desktop publishing, typesetting was very expensive. Now, what was an expensive process reserved for special occasions is nearly disposable.
Information processing as a material changes everything it touches, often in unpredictable ways, including the tools used to make end products. Ubiquitous computing isn't just about offices and homes, but garages, workshops and assembly lines.
The full presentation (752K PDF) is available.
[Also, in the presentation I say that Lessig is at Stanford, but I've now learned that he's moved to Harvard.]
[Liz's talk is on slideshare: Designing for Urban Green Spaces. She also took very extensive notes on many of the presentations.]